ADA Paratransit (RIDES)
MST RIDES ADA PARATRANSIT PROGRAM
Transportation Services for People With Disabilities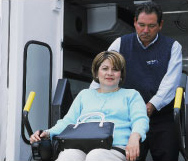 In cooperation with the American with Disabilities Act (ADA) of 1990, Monterey-Salinas Transit offers the MST RIDES ADA paratransit program to our customers who have a disability that prevents them from using MST's regular fixed route bus service.
Each of MST's regular fixed-route buses is fully accessible and each is equipped with a wheelchair lift. If you believe that you are unable to use MST's regular buses due to your disability, you may be eligible for the MST RIDES ADA paratransit program.
Get more information and see video here:
https://www.mstmobility.org/ada-paratransit-rides.htm
NEED ADDITONAL HELP?
Lesley van Dalen ~ Mobility Specialist
Telephone: 831.264.5886
Email: Lvandalen@mst.org
MST's Customer Service
888.678.2871
www.mst.org
Disclaimer: Content on our site is provided for information purposes only; therefore, this material is not intended to advise. This information includes a link to a site that is maintained by another; MS Monterey is not responsible for content on this site. Please remember to consult with your doctor or health care provider before making any changes to your medication(s) or medical regimen.