MS Monterey – Multiple Sclerosis – Please Donate
Scroll down to see how donations are used, our list of sponsors plus a growing list of financial donors!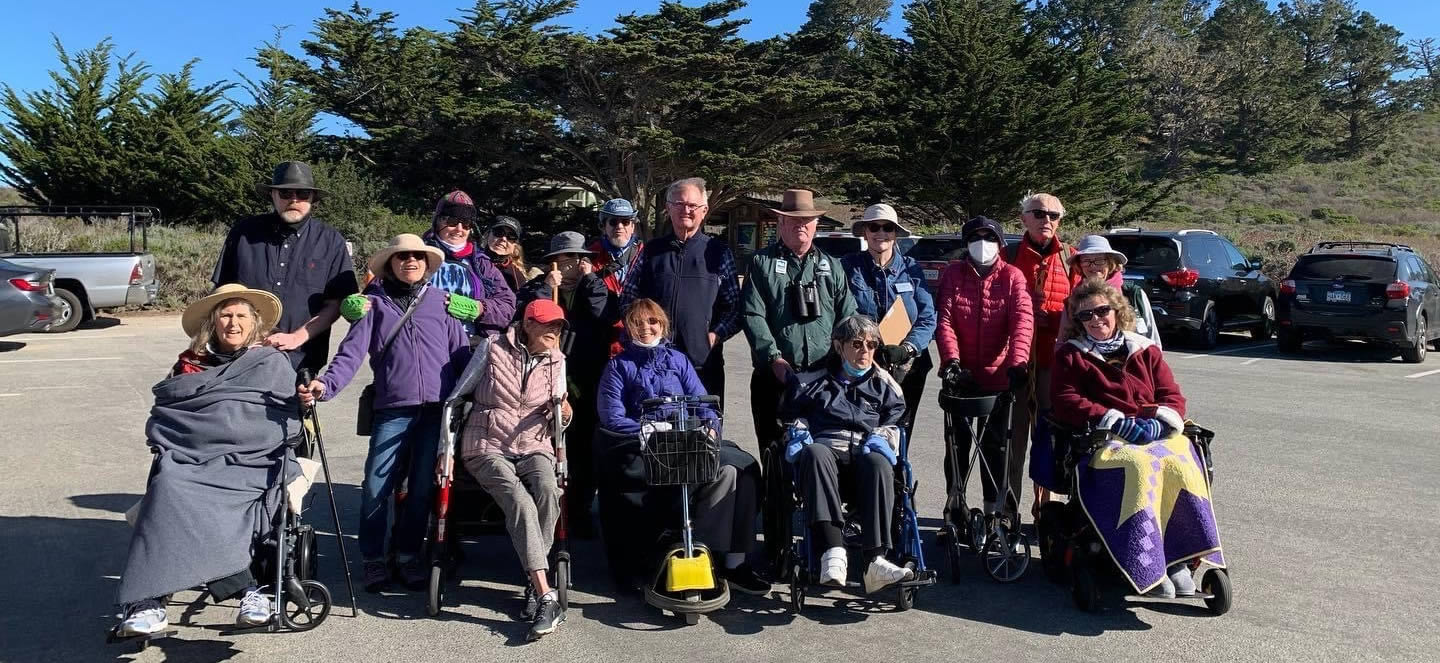 Dear Friends/Supporters,
MS Monterey is a new grassroots community organizing to support individuals with Multiple Sclerosis (MS)*.
The 2020 closure of the long-established Monterey regional MS nonprofit left dozens of those living with MS without a lifeline. MS Monterey is being built by those who have MS to ensure help is available now and in the future.
In part, our mission, is to promote community, education, and physical fitness for those dealing with MS and other neurological diseases. Our desire is to improve the quality of life for each individual, their families, and caregivers.
Any gift you provide to MS Monterey will allow us to continue to provide support through programs and resources.
Please contact us at help@msmonterey.org with any questions.
Heartfelt thanks!
~ The entire MS Monterey Community
*Others with neurological disorders, such as Parkinson's disease, epilepsy, etc. are welcome and encouraged to join.
Support MS Monterey by a tax-deductible contribution.
1. Please fill out and submit this form so we can reach out and thank you!
2. Then click the "DONATE NOW" button below to make your donation.
PLEASE NOTE: "MS Monterey" when contributing online! (See example)


MS Monterey Fiscal Sponsor
Health Projects Center
Non-Profit 501(c)(3) | Tax ID # 94-2713281
DONATIONS PAY FOR
MS Pool Class
Art Class
Park Gatherings
Educational Group Support
Zoom Meetings
Outreach to New Members and Families
Monthly Newsletters via Mail Chimp
Our Vital Website
Operating Expenses
LIST OF SPONSORS
Pool Class
Valentia Valentine (Piccinini) @ Synchronicity Holistic
Zoom Membership
Carolyn & Ray Millard 2020-2023
Website Hosting
Vickie & Gary Paynter 2022-2023
Past:
Carrieanna Hess 2021-2022
(In honor of her father, Dr. Richard Hess)
Post Office Box
Marie & Larry Swank
Domain Renewal
Marie & Larry Swank 2021-2022
Ginny & Mike Rettinger 2022-23
PO Box, WordPress / Avada Theme License
Bette Nee-Williams
Website Design, Maintenance & Marketing
Christine Gustafson @ InnLight Marketing
FINANCIAL DONORS
Ron Wormser
Marie & Larry Swank
Kathe & Susie Burns
Ginny & Mike Rettinger
Patricia Barnston
Tami & Steve Kaminsen
Barbara Rosenthal
Tammy Jennings
Duane Peterson
Ruth Gardner
Joan Giltner & Sharon Nowlin
Jay & Kip Hudson
Dr. Felice Billups
Merrilyn & Thomas Mancini
Jo Callahan
Enid Day
Laurence Howard
Patty Nee
Roberta Schneider
Melissa Kennedy
Beatrice Shoughrow
Heather & Spencer Kaminsen
Dr. Susan Paris
Michael Nee
Frank & Christine Marshall-Gustafson
Greek Ortho. Ladies Philioptochos Society
Teresa DeLuca
Ruth Forsberg
Kathryn Ryan-Thaanum
Ralph & Carol Parziale
MULTIPLE DONATIONS
Drs. Bette Nee-Williams & Leslie Williams
Ray & Carolyn Millard
Valentia Valentine
Marie & Larry Swank
Christine Gustafson
Vickie & Gary Paynter
David & Karyn Williams
Dr. Jeff & Melonie Cooper
John & Samantha Jennings
Mary Wessling
Diane Whelan
Katrina Dorsey
"Resilience, community and support when it's needed the most. A group of people that will welcome you with open arms; offer a lending hand, advice on medications and remedies, and a shoulder to lean on during especially difficult times. This group bears no judgement and has likely been where you are before. Their advice and support can be found in the pool, zoom meetings and monthly get togethers. This group of people contains some of the most genuine and empathetic people I've met. While I have not been working with them for over a year, they still make every effort to include me on emails and invites to any events. A truly beautiful community I am privileged to be a part of." ~ Taylor Copeland, Pool Class Instructor