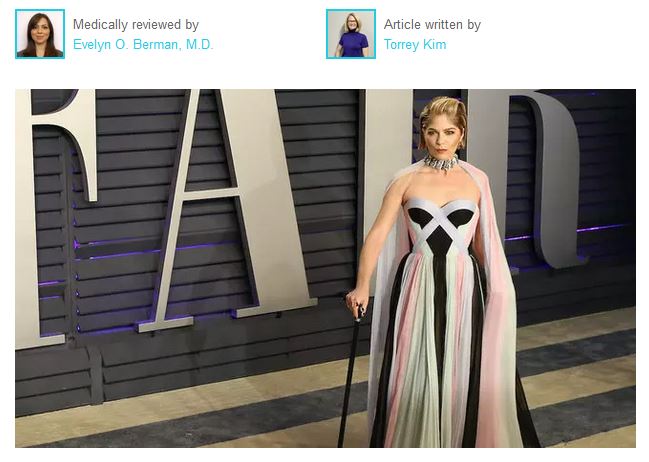 Actress Selma Blair has revealed that her multiple sclerosis (MS) is now in remission following treatment with a stem cell transplant.
Blair, who was first diagnosed with MS in 2018, made the announcement during an appearance at a Television Critics Association panel. Blair was there to discuss her new documentary, "Introducing, Selma Blair."
Blair had a procedure known as hematopoietic stem cell transplantation (HSCT), after which her remission began. She said, "It took about a year after stem cell [transplantation] for the inflammation and lesions to really go down, so I was reluctant to talk about it because I felt this need to be more healed."
During hematopoietic stem cell transplantation, doctors take stem cells from the bone marrow or blood of the person with MS and store them. At that point, chemotherapy is administered to eliminate immune cells that are causing damage. The next step is to reintroduce the person's stem cells back into their body as a way to restart their immune system.
Stem cell transplantation is approved by the U.S. Food and Drug Administration (FDA), and it is recommended for people who meet very specific criteria. It is not a first-line treatment for MS, but is usually reserved for people with highly active relapsing-remitting MS that does not respond to any disease-modifying therapies. Anyone considering HSCT is advised to consult with their health care team to evaluate whether they might be a candidate for the procedure.
"There's still maintenance, treatment and glitches, and wonderful things," Blair told the audience about her current state. "Cognitively, I'm very changed and that's been the harder part."
Blair had previously shared information about her stem cell transplant on social media, posting a photo on Instagram in May 2020 of herself in the hospital and explaining that she had to be isolated from her son during her HSCT treatment. Her documentary debuts in theaters on Oct. 15 and will be available via streaming service Discovery+ on Oct. 21.
Read more about hematopoietic stem cell transplantation for people with MS.
Article source: https://www.mymsteam.com/news/selma-blair-announces-shes-in-remission-from-ms-following-stem-cell-transplant
Disclaimer: Content on our site is provided for information purposes only; therefore, this material is not intended to advise. This information includes a link to a site that is maintained by another; MS Monterey is not responsible for content on this site. Please remember to consult with your doctor or health care provider before making any changes to your medication(s) or medical regimen.