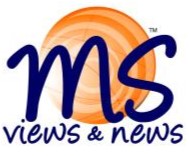 MS Views and News is excited to bring you a free monthly series featuring MS specialists updating you on the latest MS news and information! Each webinar consists of a 40 minute interview with an MS expert, followed by a 35-minute live question & answer session with the audience.
** PLEASE keep ALL Questions Relative to the speakers' topics for each of these programs **
UPCOMING MS NeuroTV WEBINARS:
*3/9/2021: Pain in MS- Causes, types and things that may help. Featuring James Liadis, MD Physiatrist
*4/12/2021: Cannabis and MS what we know today, updates in research and access. Featuring Ben Thrower, MD Neurology
*05/11/2021: Mental Health in MS; Opening a discussion about understanding the prevalence and challenges of depression and anxiety in MS and seeking treatment. Featuring Rick Harris PsyD Psychology
*06/09/2021: MS Research Updates: What is new in MS today and what is coming? Join Aaron Boster, MD in an engaging discussion of how far we have come in the fight against MS.
*7/13/2021: Physical therapy and assistive devices, a discussion on pelvic floor and bladder health in MS. Featuring Carina Siracusa, PT
*8/10/2021: Telehealth Today: Discussing both the pros and cons; potential benefits of virtual visits, how it can expand your plan of care and tips on how to prepare for a visit. ||
Featuring Aaron Boster, MD -Neurology
* 9/2/2021: Healthy Habits: What you can do! How to start new routines -Join in on this conversation sharing tips and direction of incorporating wellness, movement and nutrition – starting new habits that can add wellness to your daily life.
Featuring Gretchen Haw
Thanking Supporters Biogen and Bristol Myers Squibb
Get more information here …
https://register.gotowebinar.com/register/1616070282470953729?source=02.08.21%20-%20eblasts
Disclaimer: Content on our site is provided for information purposes only; therefore, this material is not intended to advise. This information includes a link to a site that is maintained by another; MS Monterey is not responsible for content on this site. Please remember to consult with your doctor or health care provider before making any changes to your medication(s) or medical regimen.