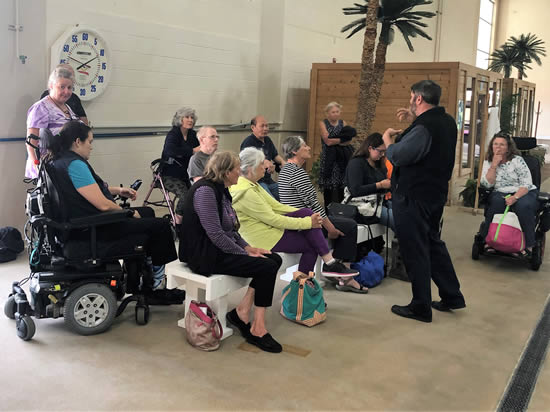 READY TO GET BACK IN THE POOL? CHECK THESE RESOURCES …
Open Swim: Multiple Sclerosis Water Therapy
Medically reviewed by George Krucik, MD, MBA — Written by Ann Pietrangelo
https://www.healthline.com/health/multiple-water-therapy
From National MS Society – Aquatic Exercise Programming for People with Multiple Sclerosis MATERIALS FOR AQUATIC EXERCISE INSTRUCTORS

https://www.nationalmssociety.org/NationalMSSociety/media/MSNationalFiles/Brochures/aquatic_exercise_program_03-16_v3.pdf

MSAA Aqua Guide

https://mymsaa.org/PDFs/aqua-patient-pub.pdf

Getting Back in the Water with My MS
Ed Tobias
https://multiplesclerosisnewstoday.com/columns/2019/07/25/getting-back-in-the-swim-with-my-ms/

Aquatic Therapy for Parkinson's Disease | HydroWorx
Parkinson's disease is a chronic and progressive disorder that impacts movement and coordination.
https://www.hydroworx.com/blog/aquatic-exercise-benefits-people-with-parkinsons-disease/

Exercising in water can improve Parkinson's symptoms – Brian Grant Foundation
Aquatic exercise, from lap swimming to water aerobics and Zumba, can improve balance, mobility, posture and more…
https://briangrant.org/exercising-in-water-can-improve-parkinsons-symptoms/

Aquatic Therapy Benefits People with Parkinson's Disease
Most people are aware that exercising in the water offers great benefits for people with joint issues …
https://www.goodshepherdrehab.org/press-releases/aquatic-therapy-benefits-people-with-parkinsons-disease/

Guide for PD and the pool
https://www.apdaparkinson.org/uploads/files/Aquatic-Book_8-08—edited-2015-oUM.pdf
Disclaimer: Content on our site is provided for information purposes only; therefore, this material is not intended to advise. This information includes a link to a site that is maintained by another; MS Monterey is not responsible for content on this site. Please remember to consult with your doctor or health care provider before making any changes to your medication(s) or medical regimen.