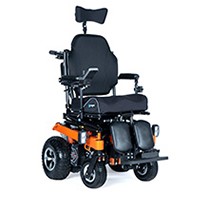 MS Monterey and Kelly Carter, Sales Associate, from 21st Century Scientific, Inc. presenting a demonstration of their wheelchairs.
We're meeting on Wednesday, 7/28 at 10:30am in the rear parking lot (that runs parallel to Del Monte Ave.) at the Monterey Sports Center, 301 E. Franklin St, Monterey, CA 93940.
Kelly Carter
21st Century Scientific, Inc.
https://www.wheelchairs.com
(800) 448-3680 x 322
Please RSVP so Kelly has an approximate number of those who are planning to attend. Please feel free to share this notice with anyone who may benefit from the demonstration.
Disclaimer: Content on our site is provided for information purposes only; therefore, this material is not intended to advise. This information includes a link to a site that is maintained by another; MS Monterey is not responsible for content on this site. Please remember to consult with your doctor or health care provider before making any changes to your medication(s) or medical regimen.